Today, Granada says goodbye to almost 500 professionals from the Turismo de Congresos y de Viajes de Incentivo who have been in the city for the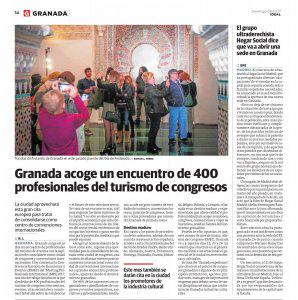 European Meetings & Events Conference (EMEC), organised by the Meeting Professionals International (MPI) association.
From the 5th-7th of March, MICE professionals from across Europe have analysed trends in the sector. Event organisers and providers also took advantage of the opportunity to network, in addition to attending diverse networking events.
As part of their social programme, the organisation chose Cicerone to provide their Private tour of the Alhambra and Generalife , which they did last Sunday. Our guides showed them some of the wonders of the Nasrid Palaces, and introduced them to some of the monument's charms.
Cicerone, Congress leaders in Granada
"Each year we work hard to take our EMEC and WEC conferences to an even higher level, experimenting with elements of innovative design and embracing the host destination's charm. At EMEC 2017, our passion for connecting the events and meetings community will be displayed at each contact point, from attractive training to our purchasing programme and networking events which celebrate Granada's cultural heritage", stated the president and CEO of MPI, Paul Van Deventer.
At Cicerone we would like to thank our guides of Cicerone for their effort ensuring that everything turned out perfectly, and to the organization of the congress for placing their trust in us. For us, it's a pleasure to have been able to contribute to the conference's success with our commitment and professionalism.