Granadians, visitors and all of you who are in Granada this weekend, we've got news for you! In fact, it's great news! Noche en Blanco in Granada is here and it's packed with events, surprises, shows…and much more. We just couldn't wait to let you know that from today onwards, there's a programme of events and activities that you can enjoy across the city.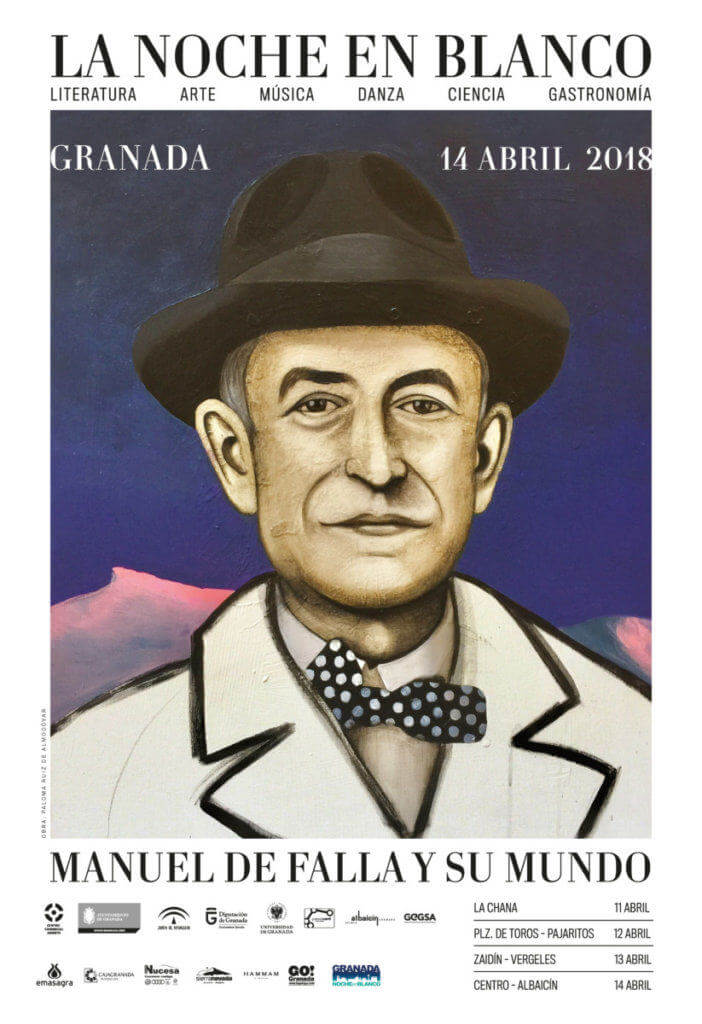 So, what's Noche en Blanco in Granada? It's a cultural event that's in its fifth year and is characterised by its aim to share culture in a way that's free and accessible to all. Also, every year's different as there are always new performances and collaborations.
This edition of Noche en Blanco in Granada will take place on Saturday 14 April and will be based on and dedicated to the composer, Manuel de Falla. Although there will be activities, exhibitions and events across the city from 11 to 13 April, 14 April will be the pinnacle of the event. CICERONE will of course be taking part in this incredible night that's just around the corner.
Cicerone has been participating in this event for the past years; in 2017 we organised a guided tour of the Cathedral and previously, we organised a special guided tour of the Realejo by moonlight. If you remember our from Islam to Christianity route, that was also part of another of our several Noche en Blanco. We've also been the information point for Noche en Blanco several times. So, what have we got in store for this year? This year, we'll be at our Customer Service Centre-Shop located at 10 Calle San Jéronimo, where we'll be available from 7pm to 11pm to give you all the information you'll need to know about Noche en Blanco (events, activities, music, bars…). We're the official information point for this very special night in Granada.
Here you'll find the promo video for Noche en Blanco 2018 in Granada. We hope you enjoy it and that we'll see you this Saturday at our customer service centre.