For the fifth consecutive year, the travellers of TripAdvisor have granted the Certificate of Excellence 2016 to Cicerone. This is thanks to the high rating that our customers provide from our tours.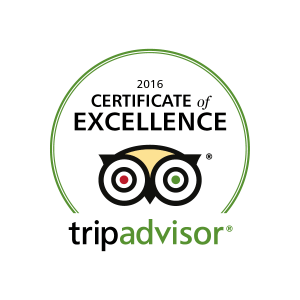 First, from Cicerone, we would like to thank our team, their effort, their professionalism and their daily work makes us stand out from all the rest of guided tours. They treat each customer as a relative, and as they get that clients are satisfied and recommend our services. And of course, we do not want to forget our customers. Their positive comments and recommendations to other travelers have made possible this Certificate of Excellence. We will continue working to offer always the best and highest quality in our tours.
This achievement celebrates businesses related with tourism that have earned great traveller reviews on TripAdvisor over the past year. Certificate of Excellence recipients include accommodations, eateries and attractions located all over the world that have continually delivered a quality customer experience.
For the whole team Cicerone, it is a proud and honor that our customers have made us win for the 5th consecutive year this prestigious recognition. We are pleased that our work and our efforts reverse in the quality of our services and therefore in the satisfaction of our customers.
About TripAdvisor Certificate of Excellence
The Certificate of Excellence accounts for the quality, quantity and recency of reviews submitted by travellers on TripAdvisor over a 12-month period. To qualify, a business must maintain an overall TripAdvisor bubble rating of at least four out of five, have a minimum number of reviews and must have been listed on TripAdvisor for at least 12 months.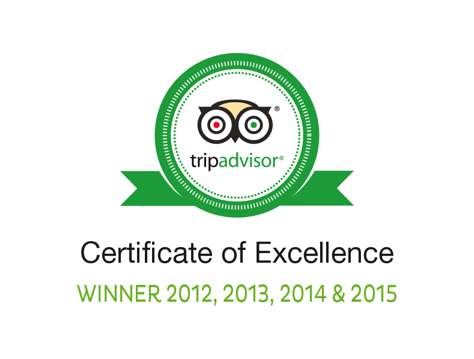 TripAdvisor is the world's largest travel site, enabling travellers to plan and book their trip, and offers advice from millions of travellers. TripAdvisor-branded sites make up the largest travel community in the world, reaching 340 million unique monthly visitors, and 350 million reviews and opinions covering 6.5 million accommodations, restaurants and attractions. The sites operate in 48 markets worldwide.
"With the Certificate of Excellence, TripAdvisor honours hospitality businesses that have consistently received strong praise and ratings from travellers", said Heather Leisman, Vice President of Industry Marketing, TripAdvisor. "This recognition helps travellers identify and book properties that regularly deliver great service. TripAdvisor is proud to play this integral role in helping travellers feel more confident in their booking decisions."