Are you familiar with the Cármen del Mauror? The Cármen at the Fundación Rodríguez-Acosta? It's located on Colina del Mauror or "aguadores". Despite being a recent construction, it was declared a National Historic Monument in 1982. Behind it, there is a beautiful story about a love for painting. In fact, José María Rodríguez-Acosta de la Cámara, the owner, designed it as a recreation of Arnold Böcklin's painting "Island of The Dead".Do you want to find out more?
Rodríguez-Acosta discovers a painting that changes his life
José María Rodríguez-Acosta de la Cámara (1878-1941) was the son of one of Granada's most famous families, who played a significant role in the city's business world. However, like many young people at this time, Rodríguez Acosta put business to one side to dedicate himself to art. He fell in love with painting and wanted it to become his sole focus.
He didn't hold back and to achieve this, he travelled around the world, starting with Madrid. It was here that he met the country's most modern, avantgarde artists and writers. He crossed the border. Painters tended to travel around Europe visiting museums, the best of universal art and exchanging impressions with other colleagues. His trips therefore had two objectives: learn and find inspiration. Get to know this Private tour to the places of Federico Garcia Lorca in Granada.
However, there was one particular trip that really left its mark on him. There's some confusion as to whether it took place in Berlin or Switzerland, but what is certain is that it happened. He discovered the piece "Island of The Dead" by Arnold Böcklin. This painting represents a landscape at night and features a small island, with rock walls, full of cypresses (symbolic of death). Hidden in the rocks are niche-like spaces. A boatman carrying a passenger interrupts the loneliness of the night. This is particularly significant, as since classical mythology, following a death, it was a boatman who took the person to the world of the dead.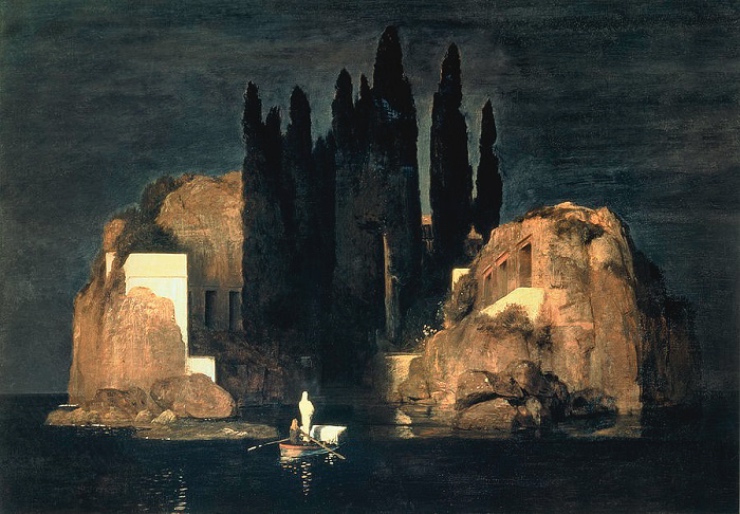 Rodríguez Acosta returns to Granada: constructing the Carmen
Granada's cármenes are one of its signs of identity and each one has a different origin. The Cármen belonging to the Fundación Rodríguez-Acosta was born of obsession. In 1914, the painter decided to live in Granada permanently. As opposed to wanting to rest, he decided to create the piece of a lifetime. Unexpectedly, this particular piece would in fact be architectural: he was going to construct a cármen that would recreate the piece that had left its mark on him forever. He thought that it would be the best place to sit and be inspired.
The first step was to buy the properties that would enable him to do this. He moved into his brother's house on Granada's Gran Vía and in painter Rodrigo Ocampo's studio. He chose Colina del Mauror ("aguadores") and in just a year, he acquired 24 houses and yards. He even bought Callejón Río Chico from the Town Hall, which he owes, in part, to two of his friends who were working there.
Once he had the land he needed, the demolition process began. The idea was to have a blank canvas upon which to erect the architectural version of the Island of The Dead. This was the easiest part of the project. The construction was challenging and he even changed architect three times.
How was the Carmen at the Fundación Rodríguez-Acosta built

The first stage of the carmen construction
The first stage was in the hands of architect Ricardo Santa Cruz. Rodríguez Acosta explained what he wanted at the same time as stating that he wanted to include some parts from Renaissance and Hispanic-Muslim buildings. The building was to have two towers, similar to those that can be seen in the painting, a central patio and was to be constructed with a very clear mixture of styles: Greek-Roman and Nasrid.
Despite Santa Cruz's efforts, the results were not achieved. The work was not progressing and he was dismissed in 1920.
Second stage: Teodoro Anasagasti
The collaboration lasted two years (1921-1923). Anasagasti was already endorsed by his own work and prestige. They had met at the gatherings in Madrid and had a good personal relationship. In his case, he opted for an alternative further from Granada's Moorish tradition.This unsettled Rodríguez Acosta. He had a very clear vision and knew exactly what he wanted, so the architect was to limit himself to making this happen.
After various arguments, Anasagasti ended up abandoning the project.
Final stage: Giménez Lacal (1923-1928)
Giménez Lacal was from Granada and was the son of a businessman and architect. He followed in the footsteps of his family and with great success. At that time, he was in charge of the construction of the cármen for José María's brother. He must have been doing a good job when he caught his eye.
At last, he was on the same wavelength as someone. The issues with pride disappeared and he knew how to bring the image that Rodríguez Acosta had in mind, to life. The only argument they had was to do with the colour of the building. In the end, they settled for white, perhaps thinking that the russet towers in the Alhambra were white before they turned this reddish colour over time. Thanks to this decision, it was given the nickname "The White Carmen".
Despite the grandeur of the work, initially it was completely ignored by art critics. This provides a contrast to what we said at the beginning: it was declared a National Historical Monument in 1982. This cármen is therefore one of the monuments that has obtained such recognition so quickly. Today, you can see it when you visit Granada. Those who do find the time to visit are always amazed by its originality and beauty.
We recommend the following guided tours