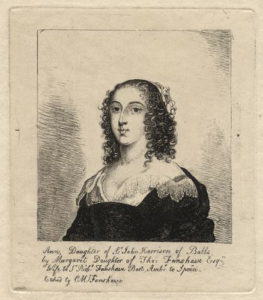 Lady Anne Fanshawe was an English aristocrat, born in London in the 17th century. She was the eldest of three children and was taught, just like all the other women at the time, to carry out housework. However, she was quite passionate about other "chores", such as horse riding, learning French and even music.
Her husband, Richard Fanshawe, was the first ambassador of the English court in Spain. Anne travelled to Spain with him, where she began to make friends with Margaret of Austria (wife of Philip IV). During her stay in our country, she integrated quite well into the Spanish court.
Lady Anne Fanshawe was also a writer, which is why we're talking about her today. We have conserved the incredibly interesting memories she wrote for her daughter.
Through these memories we have discovered that Lady Anne was fascinated by our gastronomy, rich in sweet treats and game meat, which is why she wrote down the recipes we would later find in her book. This book included more than 80 very interesting and curious recipes, such as the first recipe which is known as our popular sangría and even one of the first ice cream recipes… which she called "Icy Cream"·
The first sangria recipe by Lady Anne Fanshawe
Madrid, 10 August 1665. To make lemonade, collect a gallon of water from the fountain and two quarts of the best white wine. Add three large lemons, including the peel, chopped into one-inch pieces. Juice a whole lemon and add a pound and a half of the best white sugar.
Lady Anne Fanshawe was not a cooking professional, nor was she Spanish. She was an English woman, a foreigner passionate about our gastronomy and whose life would create three television films just like the ones we enjoy watching in the evening: Lady Anne Fanshawe (1625-1680).
Source: Brugos conecta
We've also discovered a fun video in which someone tries to make ice cream following Lady Anne's famous recipe. We should bear in mind that Lady Anne never included quantities and used bizarre ingredients such as orange blossom water. We'll see how this experiment goes. How do you think it will turn out?