When we visit Granada we don't only have the option of seeing monuments like the Alhambra, the Catedral and the city's old town, we can also explore its streets and its people. So today, we're going to tell you about some of Granada's traditions which are most prevalent in the culture and that you can experience to feel part of it.
Granada's Traditions

The bread
In the world of gastronomy, bread plays a major role. It's the perfect accompanying food that's always found on the table, and is never missing on our table.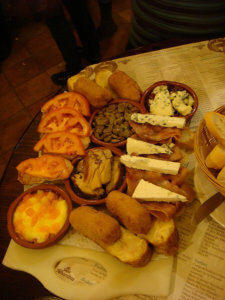 It can be part of a dish or we can eat it as an accompanying food. It appears frequently in tapas, either as the base other food is placed upon, or for eating a sauce.
The Tapas
There's nothing more common for us Granada locals than going out for tapas. For us, going for tapas means enjoying small portions of food at one or several bars, where you can enjoy the culinary culture. Normally the tapas are accompanied by beer or wine and great company you can have a conversation with. To help you with all this, we're providing you with this Guide to Tapas. If you don't have much time and you want to enjoy the Albayzín along with a tapa we recommend our tapas route.
Table Talk
After some great tapas or lunch it is quite common to stay in the company of the same people you've eaten with to have a tea, coffee, a bit of liqueur, or  to just debate, speak about trivial things or enjoy great company.  Our table talk can go on for several hours so, If you've planned to have lunch with one of us, just in case, don't plan anything right afterwards!!!
The caves and flamenco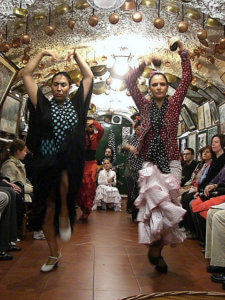 One of the fascinating things about Granada is the Caves in Barrio Sacromonte, where flamenco is danced and sung. Here in Granada they are known as flamenco Zambras and tablaos, and what's more, they can be visited year round. Something that the majority of Granada locals do at some point in their lives. Get to know this Private Tour in Granada.
Timetables
The timetables are one peculiarity of this country compared to the rest of Europe, since we tend to eat lunch and dinner later than in other countries. However, in addition, if you're a Granada local, and you're going to go out, you'll find bar kitchens open exceptionally late.
The Siesta
Related to our timetables, the siesta is very typical and even necessary to continue one's routine, due to long split shifts. Siestas are a nap after lunch that helps us rest in order to carry on with the rest of our day.
Granada Festivals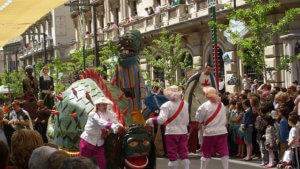 One of the intriguing events to be enjoyed in Granada is the Tarasca. An annual procession which takes place on the Wednesday of Corpus Christi. In this procession lies the big secret of the season's fashion trend. Dressing the Tarasca (a female mannequin on the back of a dragon) up with some new trend that will be found in the boutiques on the retail streets of the centre. The clothing is usually made by a renowned local designer.  However, in the procession we'll also find rather odd characters like "giants and Cabezudos" (figures with oversized heads)" which accompany the Tarasca as its entourage.
The noise
It's rather obvious that we, Granada locals are loud by nature, in bars the conversations boom, people answer their phones as if they wanted to speak to everyone in the surrounding area. And of course the hubbub is also reflected in public transport, which tends to be loud if there are several groups of people speaking.