Gabriel Morcillo is our personal recommendation for this week. We've decided to recommend him not only because of the weather we've had lately, but also due to the relevance of this author is in our city. This painter began his education at our beloved University of Fine Arts (Universidad de Bellas Artes), this inspired him to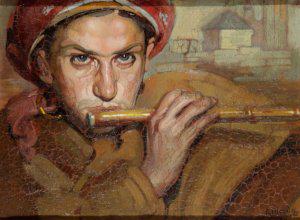 keep with his artistic career and improve under the supervision of masters such as Manuel Vico Hernández and José de Larrocha González. In addition to those who inspired him in his professional life, we should mention the fact that he visited other cities such as Madrid or Málaga; in order to continue and enrich his education, knowledge and learning.
His works are characterizes by  being portraits and landscapes, influenced by orientalism and sensuality.
Nowadays, some of his works can be seen at the Granada Museum of Fine Art, located in the Palace of Charles V in Alhambra. a few days ago, a painting named God of the fruit has been added to the collection, because it was returned to its city of origin.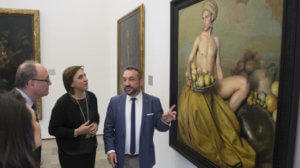 Works by Gabriel Morcillo can also be admired at Casa Ajsaris, in the Albayzín. There you'll find a small private collection. Currently, you can also visit the temporary exhibition at the Museo de Caja Granada Fundación, where a collection of his works will be on display until the end of April. This short description is featured at the Gabriel Morcillo exhibition in the Museo de Caja Granada:
"The Gabriel Morcillo exhibition brings together more than 50 works by one of the most notable Granadian painters of the 20th century; Gabriel Morcillo Raya (1887-1973), an artist well known for his orientalist paintings, and for being an excellent painter of traditionalist scenes, portraits and still life".