Granada, the capital city of Granada Province, is a bustling town home to incredible tapas, music, culture, nightlife, and everything you need for a top-notch vacation. The surrounding countryside and Sierra Nevada mountains offer opportunities to take a day trip from Granada and step out of the hustle and bustle to explore some quieter, unique spaces near enough to be there and back in time for sherry and tapas in the evening. Here are some destinations that make for some of the best day trips from Granada.
Alpujarras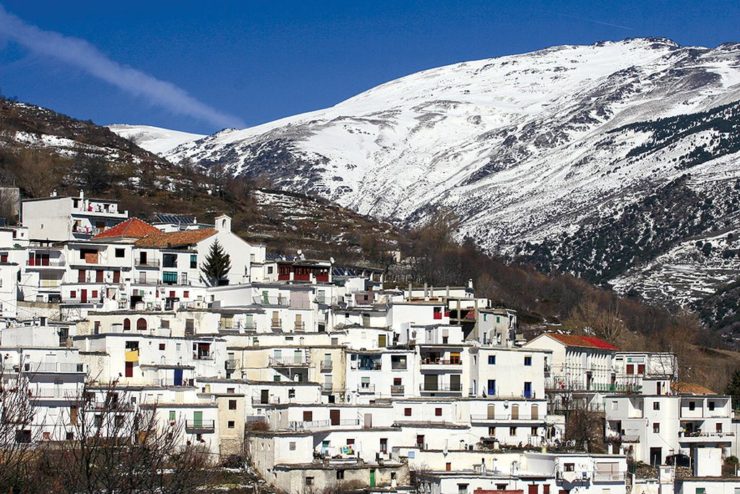 Las Alpujarras is a mountainous region containing several quaint and ancient villages. The area is only a short ride from Granada, making it a popular destination as one of the many available day trips from Granada.
For centuries, farmers in La Alpujarra (as it's known in Spain, in the singular) have used intricate terrace structures to irrigate their crops. The result of this tradition now is pockets of green and flourishing gardens that soak in the water trickling down from the high mountaintop snowbanks above. These oases stand in stark contrast to the arid landscape that surrounds them.
The terraces also make for exciting hiking paths through the deep ravines and over foothills and peaks of La Alpujarra. The average elevation in the area is around 4000 feet above sea level, so if you do spend time outdoors here, be sure you have plenty of water and warm clothes.
A Brief History of La Alpujarra
There are about 50 villages in the La Alpujarra area. In the Prior to the end of the 15th century, the area housed few people, it was a remote and mostly inaccessible to the people of Granada. But after the Castilians took over Granada in 1492, all the Muslims living in the area were forced to convert to Christianity. You can imagine how that went over.
Rather than be killed or convert, many Muslims in Granada moved out of the city to this remote area to protect themselves from persecution. This separation eventually led to the Morisco Rebellion of 1568, which ended brutally when the leader of the rebellion, Ben Humeya, was executed in the public square in Granada. After the end of the rebellion, all people of Arab descent were expelled from the Kingdom of Granada. The area was resettled by 12,000 Christian families. But the influence of the Berber invasion is still visible to this day with its unique Muslim and Arab architecture, and of course, its famous terraces. Take a tour of the area to see many of the same structures and terraces used by people hundreds of years ago.
Guadix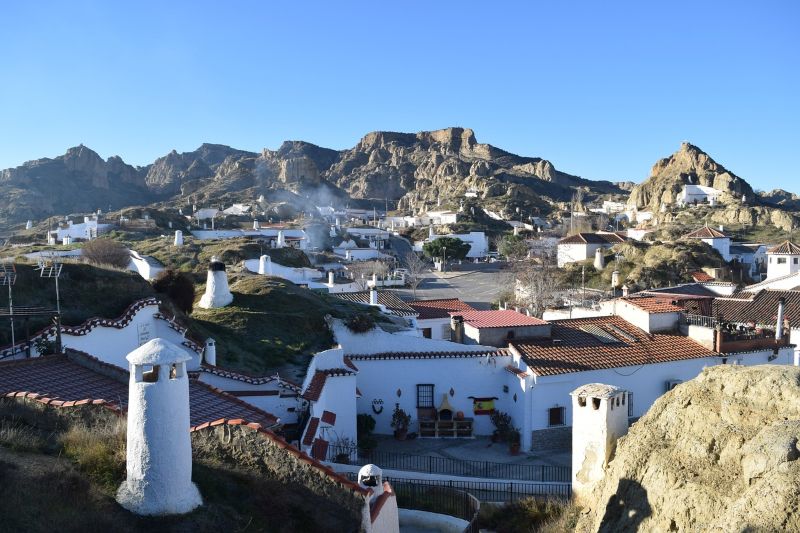 A mountain town located in the high foothills of the northern Sierra Nevada, Guadix is an ancient and vibrant place to visit during a trip to Granada. It's close enough to add to your list of day trips from Granada and far enough away to get a different perspective on the beautiful Andalusian area.
Guadix is one of the oldest human settlements in Spain, with evidence showing people living there as far back as the Bronze Age (as late as 1200 BC). You can still visit Moorish buildings and architecture throughout the city after it became a major Moorish fortress after 711 AD. The town was a hub for Moorish forces during the civil war in Spain between Muslims and Christians. The Battle Of Guadix was fought there in 1362 when Moorish ruler Muhammad XIII of Granada routed a small army of Castilians.
Things to do in Guadix
Guadix offers many sights and sounds and is a relatively short day trip from Granada. Here are just a few things you can see and do there:
Guadix Cathedral. The Guadix Cathedral was built on an old mosque over 200 years, between the 16th and 18th centuries. This Baroque-style building offers tours and excellent views of the town and the surrounding area from its old towers.
Alcazaba de Guadix. Compare this Moorish fortress with Alhambra, the massive fortress outside the city of Granada. Here you can walk along the high stone walls and gaze out over the city and surrounding area. The complex features two courtyards and a seminary, which was originally completed in 1595. Many parts of the complex are even older.
Barrio de Santiago. Here's an opportunity to see things you don't get a chance to every day. Barrio de Santiago is a neighborhood in Guadix that features ancient cave dwellings, some of which as been restored for modern homes. In this area, you'll find caves complete with fossils, some of them millions of years old. The neighborhood is famous for its wide range of troglodyte fossils.
Geoparque de Granada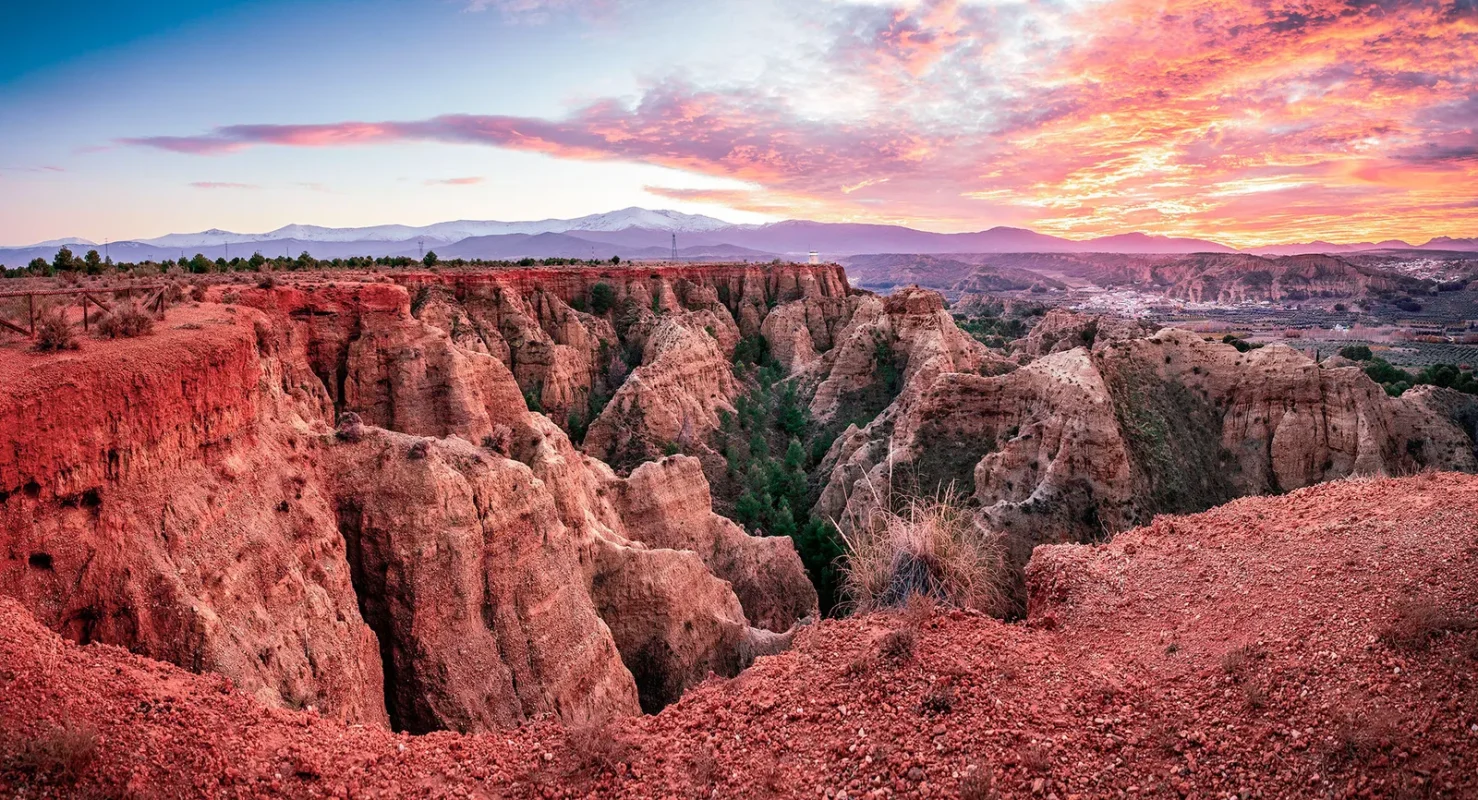 A short drive from Granada is Geoparque de Granada, a large public park featuring exotic rock formations and beautiful mountain views. The park is also known as holding one of the most complete continental geological records of the past 5 millions years. Here you can find layers of rock pushed up to the surface of the earth millions of years ago, along with the fossilized remains of ancient creatures that once roamed the land.
Exploring the Geoparque de Granada is one of the easier day trips from Granada. Also, consider staying a night or two in Carzola or one of the neighboring towns.
Costa Tropical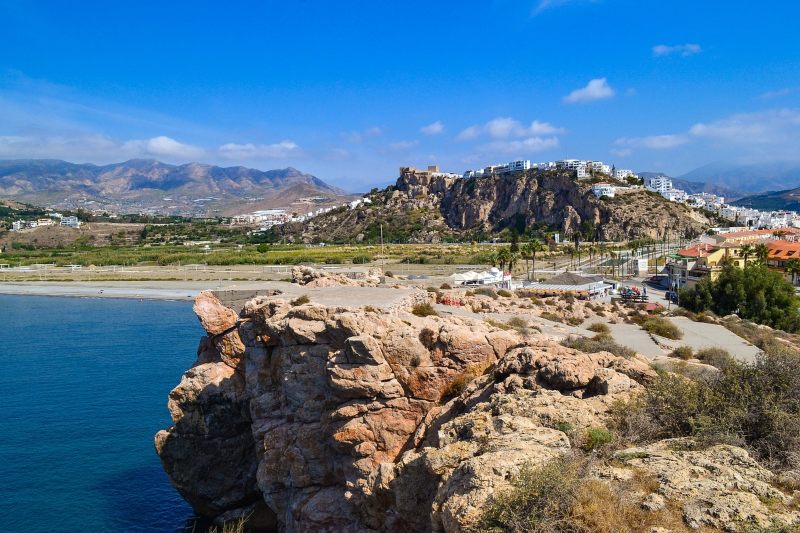 Costa Tropical is a long stretch of oceanside dwellings and towns along the southern coast of Granada Province. Included in this area are over 30 beaches and coves, all offering their own views of the sea and delights on land. Explore rugged cliffs, pristine sandy beaches, and small villages all bursting with local flavors. Much of the area features ancient ruins, some that go as far back as Roman occupation times, along with castles and beautiful architecture that stretches back centuries.
Book a Day Trip From Granada Today
Cicerone offers a wide selection of day trips from Granada to ensure visitors have the opportunity to explore the area and see what Granada Province has to offer. Contact us to see how we can build a sustainable, fun, breathtaking journey to Granada today.
We recommend the following guided tours