The Fundación Rodríguez-Acosta has recovered the "essence" of its headquarters, the Carmen Blanco, showing it as originally conceived by its founder, José María Rodríguez-Acosta between 1916 and 1930, after the vestibule on the ground floor was refurbished, after having been covered up by wooden panels for more than 30 years. The panels, which hid the original decoration, have now been removed. The president of the Granada institution, artist Miguel Rodríguez-Acosta, and the managing director of the Patronato de la Alhambra y Generalife, María del Mar Villafranca, made a trip this past Tuesday to oversee the state of the construction work which will allow a new "reinterpretation of the place"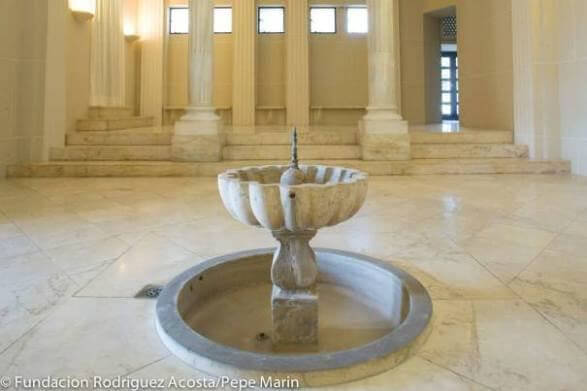 "Light now plays an important role, after the discovery of the large windows behind the vestibule. Furthermore, latticework, Nasrid capitals, marble benches and art nouveau architectural pieces which adorned the walls and that, even if we knew they existed, we'd lost track of them in our memory. The idea is for the place to also get back the furniture it was originally furnished with as well", Rodríguez-Acosta explained. As for her, Villafranca has recognised that this discovery will become just "one more reason to rediscover the Carmen Blanco of the Fundación Rodríguez-Acosta, which was declared a National Monument in 1973 and has its architectural detailing and original decoration on display. For the exhibition "Federico García Lorca. Dibujos" , a number of wooden panels were put up to adapt the place as a hall for temporary exhibitions, a solution that has been maintained for more than 30 years up to present day.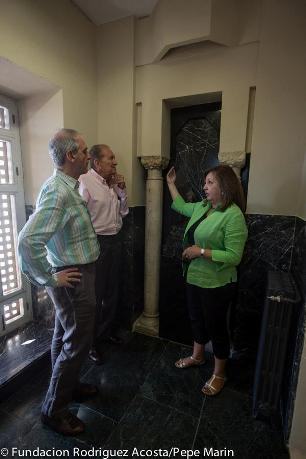 Carmen Blanco  Since this past April and coinciding with the new phase underway at the Fundación Rodríguez-Acosta, the Junta de Andalucía is taking on new responsibilities via the Department of Education, Culture and Sport and the Patronato de la Alhambra and Generalife are undertaking several projects to clean the Jardines' ornamental elements.  There are new itineraries to open up the institution to the general public, new types of ticket options, such as the Alhambra Combination one, while a number of cultural activities have been planned.
The Fundación Rodríguez-Acosta was created in 1941 at the bequest of painter José María Rodríguez-Acosta. Its headquarters is in Granada, in the carmen built by its founder between 1916 and 1930, beside the towers known as Torres Bermejas and the Monumental Complex of  the Alhambra and Generalife. Among its goals are cultural promotion and dissemination, work which has been undertaken through its cultural programmes: artist grants to Educational Centres for fine arts, contests, exhibitions, conferences, seminaries, recitals and publications dedicated to research centred on studying Andalusia and Granada. The Fundación Rodríguez-Acosta has enriched its artistic and documentary collections with a diverse range of donations, including the one by the Gómez-Moreno family in 1973, which made way for the institute of the same name.
Source: Europa Press