Several months ago, the team for the TV series Isabel was in Granada (Things to do in Granada) and the Alhambra (Alhambra Tours) filming scenes for the episodes. At the same time they filmed takes for scenes connected to the story of the Catholic Monarchs. Cicerone collaborated where requested, we led them on a route around the main Isabella-related places in the capital and we're delighted with the finished result: an incredible interactive documentary by RTVE Lab on the Catholic Monarchs' military campaign that ended Muslim rule in Granada and concluded the Reconquista.
We at Cicerone have nothing but words of thanks for them having let us take part in the project. And… congratulations on the end result!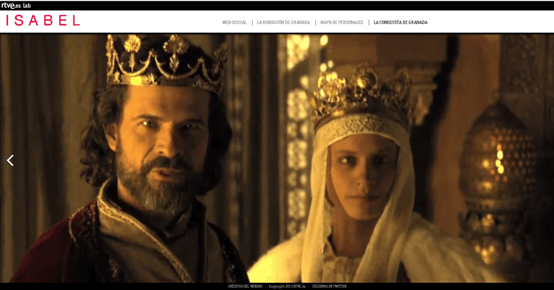 The series 'Isabel' is more interactive than ever on RTVE.es. The corporation's website launches 'Isabel. La conquista de Granada', an interactive documentary on the Reconquista and the handing over of the last Muslim bastion on the peninsula to the Catholic Monarchs.  Narrated by Isabella (Michelle Jenner) and Boabdil (Álex Martínez) the web documentary tells -using animation, videos, text and images- the battles which end in Granada being handed over to Isabella and Ferdinand.

It can be seen on www.rtve.es/granada. Produced by RTVE.es Lab, Isabel. Furthermore, the conquest of Granada goes into depth on the most important political and social events of the time, such as establishing the Inquisition, the expulsion of the Jews and the reorganisation of the aristocracy. The voices of Isabella of Castile (Michelle Jenner) and Boabdil (Álex Martínez) are the common theme when navigating the site, where users will be able to choose if they want to continue the story from the Christian or the Muslim perspective.

An integrated multidisciplinary team of journalists, designers, producers and web developers has worked on the project in partnership with the Isabel team. The illustrations are the work of Ben Kovar, who has worked on animated films such as '300' and 'Happy Feet'. The animation production company Vectorsoul also collaborated on the project.

The documentary has also had an advisory team for the series and historians José Enrique Villuendas Salinas and Mabel Villagra.