As lovers of World Heritage, at Cicerone we support initiatives like Ecologistas en Acción (Ecologists in Action). Via an article published in El Independiente de Granada, we found out that they've applied to have the remains of a medieval wall protected. The wall appeared during construction work right in the heart of Granada's historic centre.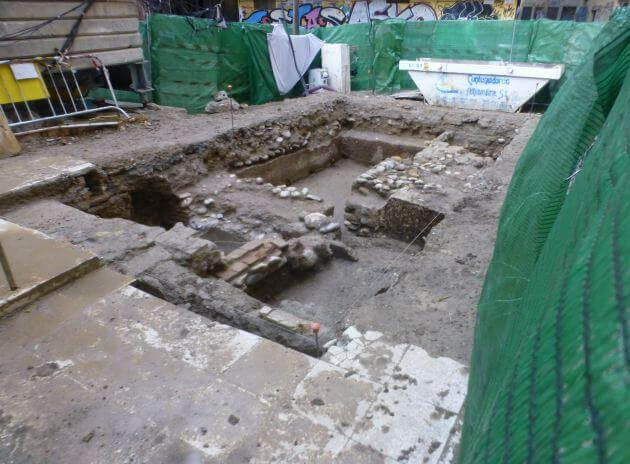 They were undertaking some demolition work in order to construct a new building, just behind Gran Vía (Calle Laurel Alta del Boquerón, No.8), and during the excavation and archaeological sampling, they discovered some very important and valuable remains. They appear to be the ruins of a medieval wall and a Zirid defense tower from the 11th century; contemporary with buildings like the Alcazaba, the Alhambra and the Bañuelo (an Arabic bath house).
The demolished building was built on top of the dilapidated defence structure, just as can be seen in the Plataforma de Ambrosio de Vico, which, as reported by Ecologistas en Acción, is a map of Granada that was traced and drawn by Ambrosio de Vico during the last decade of the 16th century.

In written reports presented to Granada City Council (Ayuntamiento de Granada) and the Territorial Delegation of the Ministry of Culture (Delegación Territorial de la Consejería de Cultura, Ecologistas en Acción), Ecologistas en Acción has requested that the defensive structures not be impacted and that they also be restored within the project framework of the new construction; three homes and three garages that are set to be built. A positive response from the Ministry of Culture and a favourable opinion from the Provincial Commission of Historical Heritage (Comisión Provincial de Patrimonio Histórico) are requested once the mandatory excavation of the entire plot has been completed.
Protection of cultural heritage remains
Ecologistas en Acción states in writing that it is awaiting the report laying out the excavation currently being undertaken. The medina walls; both those that are being uncovered at the moment and those that may be discovered during the archaeological excavations, are protected under the 1947 castle doctrine, as declared by BIC (a category of the heritage register in Spain, through Adicional 2a of Law 16/1985, included in the Cátalogo Andaluz under the BIC category through the Disposición Adicional 4ª of Law 14/2007 dated 26 December). Under this law, they anticipate the protection of an area with a perimeter of 50m, in addition to causing no damage to the defensive structures and their value.
On our page, we support initiatives like this one, which offer protection for our Heritage.
To get to know more about our history and our city's rich heritage, join us on one of our tours of Granada. They are sure to leave their mark on you.