Competitions, draws, voting, prizes, lists… the internet is inundated with them on almost any subject. Several days ago, the website Sitios de España ended public voting which was done on its Facebook page proclaiming Granada as the most beautiful city in Spain.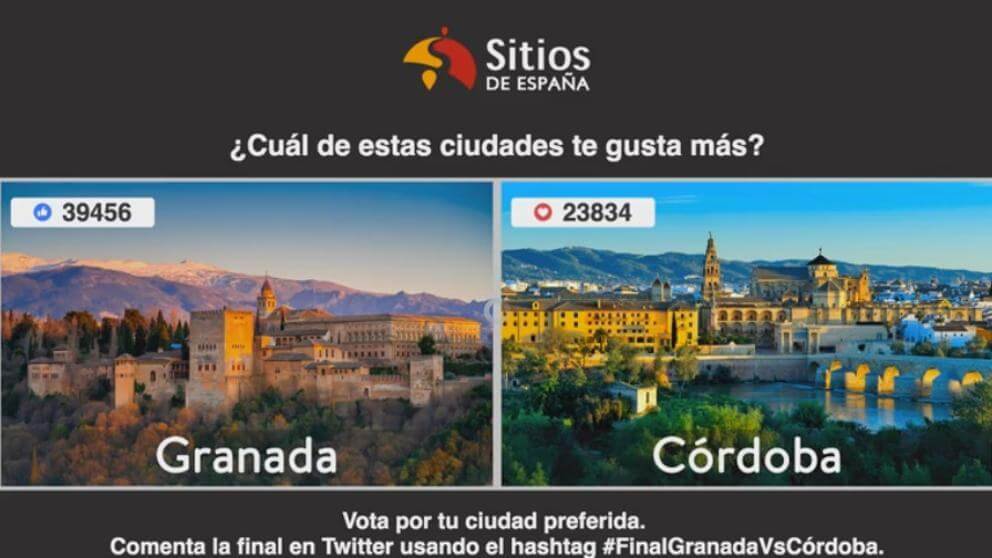 After battles with a number of Spanish cities, Granada left Mérida, A Coruña, Salamanca and Cáceres behind. In the finals, Granada Tours and Córdoba fought for the title. Between them, both would have been great choices as far as we're concerned, without detracting from the others, with the name Andalusia and Andalusian pride raised to the altars.
Finally, Granada was named the most beautiful city in our country. In any case, Andalusia came out winning with its eastern and western regions meaning that, between Granada and Córdoba, between the Mezquita and the Alhambra, it is more of a delight for the senses than an online showdown.
The battles: Granada was named the most beautiful city in Spain
After advancing from each and every one of the elimination rounds it participated in, Granada made it to the semifinal against Cartagena. Once this second last step was in the bag, it had to wait to see who would be its rival in the final, which in the end was Córdoba (defeating Cuenca in the other semifinal)

After a 48 hour wait, the highly anticipated showdown on Facebook Live between the two Andalusian cities took place, with Granada emerging victorious with 39,456 votes to 23,834.

The Alhambra city has always won hearts, but in the age of social networks the red emojis have given Granada victory over all the other cities in Spain.
It seems that this popular competition affirms the conviction that Spaniards love Granada. And it is as Icaza said", "there is nothing sadder in life than being blind in Granada". Don't miss out on seeing the most beautiful city in Spain, come to Granada and be accompanied by the true experts on Granada.
Call or write to us, we'll recommend the best experiences so you can get the most out of your visit!
Discover in this post, all the things to do in Granada.