Arab baths can be found throughout Granada to this day, and they all offer a relaxing, unique experience you won't forget. Throughout Southern Spain, you can find many relics of the past left there by the ancient Nasrid people, who created an Islamic state in Spain and ruled the area for over 200 years, from 1232 to 1492. It was the last independent Islamic kingdom in Western Europe. Granada was the capital of the area then, too, and you can see evidence of the Nasrid period throughout the city and the province.

The Nasrid government and people left behind many artifacts of their legacy in the area. Perhaps some of the most relaxing and fun you can still enjoy today, nearly 800 years later, are the Hammams, also known as Arab baths or Turkish baths. There are many "Arab Baths in Granada", all ready to provide relaxing steam in exotic surroundings. Be sure to make relaxing part of your plans in Granada.
The Tradition of Nasrid Hammams
Nasrid Hammams in Granada are remarkably well-preserved and most adhere to the same traditions as the Nasrid Arab baths, but with many more services included to cater to growing interest from modern customers. Today, as in most of these places hundreds of years ago, a Hammam has a circuit of natural thermal waters, with a hot, warm, and cold bath area, along with a traditional Turkish bath, which resembles a steam room.

In Granada, most of these Hammams are located in historic buildings, some indeed from the Nasrid period. They are excellent places to relax for a soak, steam, or even aromatherapy and massage.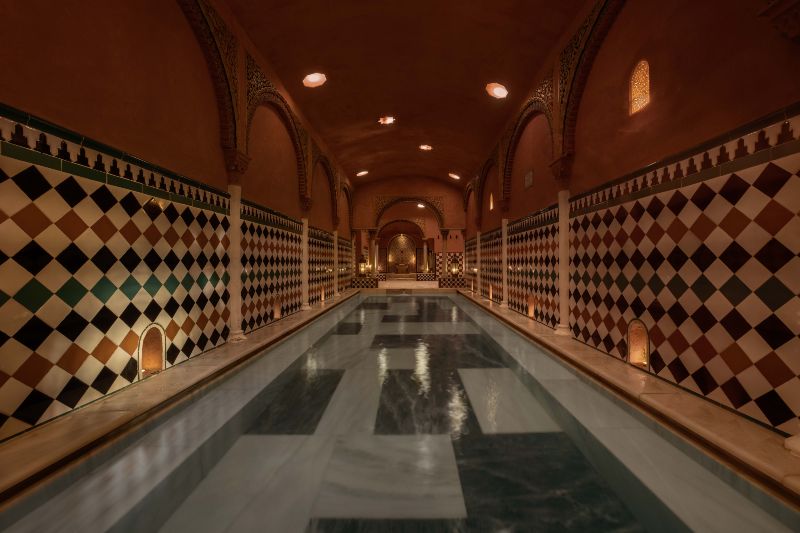 The rituals, or circuits, are special treatments that complement the baths and feature different types of massage, including essential oils, exfoliating salts, and creams. Some of these circuits can last up to 90 minutes, depending on the type of massage or treatment you choose. There are also therapeutic showers and other services available in these Arab baths.

For centuries, Arab baths have played an important role in many Middle Eastern cultures, serving as traditional social meeting centers and hygiene rituals, and as incredible examples of Islamic and Arabic architecture. "Arab Baths in Granada" have similarly been cultural centers for centuries. Hammams were introduced to Europeans via their contacts with the Ottomans and were popular in many Eastern European cities during the Victorian era. With their grandeur and commitment to service, Hammams are the key to making any relaxing plans in Granada.
The Best Hammams in Granada
There are of course many options to relax and get traditional Hammam treatment in Granada, but there are a few essential Hammams that give you unique experiences. Be sure to check out these Hammams in Granada at least once:
Hammam Al Ándalus
We have to start with probably the most significant Hammam in Granada, Hammam al Ándalus. This traditional yet modern Hammam is committed to helping you connect with your Inner Peace using the traditional Hammam circuits with a few modern amenities. All the workers and leadership of Hammam al Ándalus have bought into the traditions of Hammam and aim to make your visit as relaxing and restorative as possible by guiding you through the waters, massage, and other therapies all designed to help you unplug and focus on the self.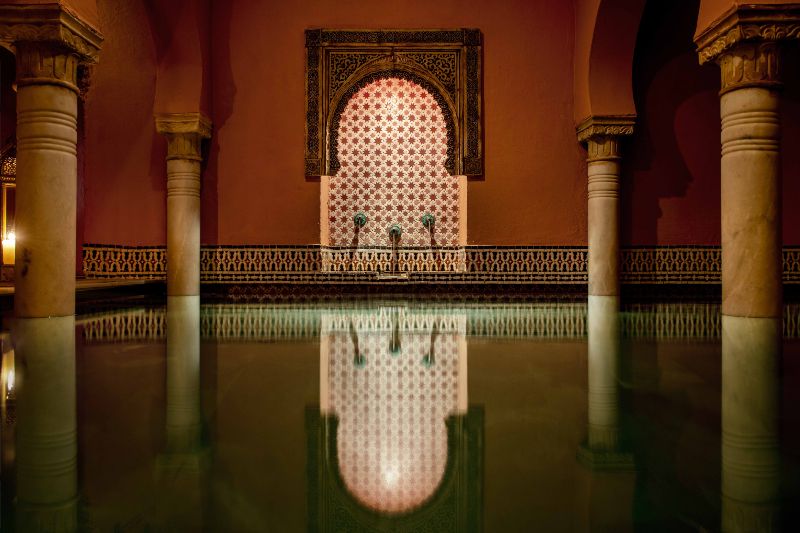 Traditional Hammams change their range of services with the seasons. In the springtime, Hammam al Ándalus creates several treatment plans honoring and celebrating the 'birth of water'. You can choose to take your own Water Journey, a genuine Arab bath experience, and add essential oils, aromatherapy, massage therapy, and even purification on a hot stone bed. Add a stretching and elongating session with a Hammam expert to complete a Bayyah session in the traditional way.

Hammam al Ándalus in Granada is located in the capital city's historic center in a breathtaking, recently renovated building to follow in the traditions of the ancient Arab baths of Southern Spain. The space is adorned by traditional Moorish tile work and designs, all working together to give you the most relaxing experience possible.
Comares Palace Arab Baths
The Palacio de Comares Arab Baths are a replica of the Hammams of the Alhambra, which are not operational but were among the very first Hammams in all of Europe. At Comares, you can expect to enjoy calm Arab bath settings along with beautiful Nasrid-esque architecture. Slide into one of the pools of hot or warm water, a jacuzzi tub, or even cryotherapy to cool off. There is also a relaxation area complete with tea service to experience peak pampering.

You can experience traditional Hammam treatments that move with the seasons as well, and round out your session with massages, inner peace rituals, and complimentary treatments.
Baños de Elvira
This quiet, cozy space in the very center of Granada combines modern luxuries with Hammam traditions. Its hot water pool features jets and a waterfall, something the Nasrid people would've installed themselves if they could. Baños de Elvira also features a small cold-water pool, a more traditional Turkish bath, and a eucalyptus sauna.

Don't let the cozy surroundings fool you, the architecture inside is immaculate and relaxed, with dim lighting and Arab music piped in quietly in the background. Baños de Elvira offers many treatment packages, including entrance to a relaxation area where you can enjoy juice, fruit, water, and tea. You are also given shampoo, sandals, and gel as a part of your booking to make your stay complete.
Conclusion
Experience hundreds of years of tradition and history by exploring Granada's Hammams. In this old city, there is much to behold and wonder at. Make sure you package your next stay in Granada with a trip to one of the Hammams above.
Make your next booking to Granada province with Cicerone, a travel company committed to sustainable tourism by promoting local businesses and partnering with them. Cicerone also offers modes of transportation options that lower the carbon footprint of travel while providing a delightful vacation.
We recommend the following guided tours