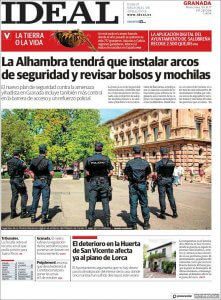 The Alhambra is the most visited monument in Spain, and one of the most beautiful places in the world. Each year, millions of people come to get to know the Nasrid citadel first-hand, its palaces, gardens and its medieval urban structure, as well as to enjoy its charm and unique beauty. It is a way of getting to know the life of our ancestors, Al-Andalus, the Renaissance and the profound renewal, which occurred afterwards.
Despite the large number of visitors, the complex exudes peace and calm, thanks to the measures to control capacity as well as its entry points. However, the Patronato de la Alhambra y el Generalife, the organisation managing the monumental complex, has informed us that security measures for accessing it will be increased.
More security at the entrances to the Alhambra's palaces
The Junta Local de Seguridad Extraordinaria de Granada met this week, and as a precautionary measure, has decided to install security controls and carry out more exhaustive control on bags, backpacks and buggies entering the Alhambra from different points. In principle, visitors' bags and rucksacks will be checked upon entry into both the Nasrid Palaces and the Generalife. There will also be random checks at other points within the Alhambra complex.
Entry into the Alhambra's Nasrid Palaces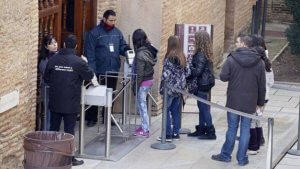 That's why the Unidad Territorial de Seguridad Privada de Granada recommends, to the greatest extent possible, leaving "bags, backpacks or belongings" behind in order to speed up entry into the indicated areas.
It is our responsibility to let visitors know about these new security measures, and we'd like to thank the authorities for looking out for the security of workers and visitors who explore the beautiful rooms of the Alhambra, as well as for preserving the heritage site.
We hope this measure is useful and we are sure it won't prevent you from enjoying the experiences the Alhambra has to offer. Would you like to find out? Come along on one of our guided tours of the Alhambra… You won't regret it! 😉