The new year is coming with a wonderful gift from the people who we get most excited about, our clients. Our guided tours are again among the most highly rated by travellers who visit Granada. This time the good news comes from Viator, here we've reached "Top Rated" status for the whole year of 2015.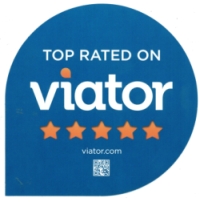 The same as when we got the Certificate of Excellence on TripAdvisor, we're thrilled to receive this type of recognition, above all because it comes from people who already know us, visit Granada with us, and decide it's worth recommending us, and we're excited for future tourists to have the same great experience.
So, thanks a ton to all our clients. You've managed year after year, for almost 12 of them already, to get Cicerone to continue improving to become the benchmark for guided tours in Granada. The only thing we can offer you in exchange for this is the promise to keep working hard to always offer you the best quality, with no competition.