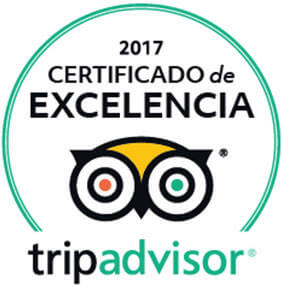 Once again, our customers have rewarded us with an acknowledgment of Excellence that made averyone in Cicerone team very proud. We are the dean company in individual tourism in Granada. 14 years at full capacity, always offering the best quality to our customers. A reference in terms of culture, heritage and passion for Granada.
Once again, our customers, through the largest social travel network in the world, have awarded us with the Certificate of Excellence 2017. The 6th consecutive year, maintaining and increasing our quality standards.
Thank you for this 6th Certificate of Excellence
We could not be happier. First of all, because of the great team that has made it possible, with their professionalism, showing the best of Granada to those who visit us.
Also, thankful to Tripadvisor, for continuing positioning us in the Top 10 of its list with the best activities in Granada, opening a window to the world for us.
And of course, and above all, grateful those who trust us every day to discover the stories and life that lies behind the stones, walls, streets and squares of our beloved Granada. Thanks to our clients, friends, who for us are like family.
We promise to continue working to keep what no other guided tours company has in Granada, the honor of a 7th consecutive year Certificate of Excellence!
We are preparing something special to celebrate this 6th Certificate. We will let you know very soon. While we wait for you in San Jerónimo 10, to continue sharing our love for the beautiful city of Granada.