Quince autum seasonal fruit
Last week, we told you a bit about the pomegranate, which is in-season at the moment. So, this week we're going to explore the membrillo or quince, a fruit that's well-known across Spain for the exquisite recipes made with it such as the carne de membrillo (quince jelly). Let's see where its history leads us…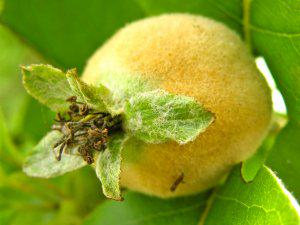 Its name comes from its yellow and almost golden colour when ripe. When unripe, quinces are green and round with grey hairs covering the skin. However, they do give off a pleasant scent. The name comes from Greek, and can be translated as "honey apple". This fruit is found in warmer climates, such as in the Mediterranean and the Balkans, since it needs warmth in order to ripen.
In Ancient Greece, it was common to give quinces as a wedding gift in order to worship Aphrodite. However, the brides used the fruit to perfume some of the rooms. In Ancient Rome, this 'golden apple' was a traditional part of their culinary repertoire; cooked with honey and used to accompany leek.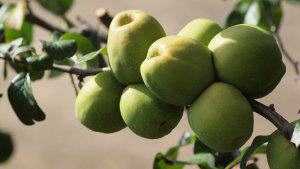 Quinces are fruit that cannot be consumed as is – they're hard and bitter, unless candied. The most common recipes are compote, jam and pudding, and we mustn't forget the famous carne de membrillo, from Spain.  An easy recipe that's accessible to all. Are you interested? It's true that making quince jelly does require a fair bit of work: for each half kilo of chopped quince, you'll need to add 800g of sugar. After leaving it to cook for almost two hours, blend and place it in moulds. Leave to cool. It will last for months in the fridge as sugar is an excellent preservative. That's why quince jelly tends to be made in large quantities – at least two kilos of quinces are needed to make approximately half a kilo of quince jelly, which will last until next autumn, when we can start to make another batch.
If you don't fancy putting in so much work, you'll find ready-made quince jelly in supermarkets and food shops across Spain, so you don't have to do the work.
Quince jelly can be eaten on toast with butter at breakfast time, but our favourite is to eat it with a slice of cheese – fresh, semi-cured, cured… any type of Spanish cheese will be divine when paired with quince jelly.
More info on the source: wikipedia