Museums are for treasuring. We use this word because they conserve and exhibit the greatest treasures of humanity,objects that were created to be beautiful. This is why the architecture and design of museums is so special. We are very lucky in Granada, because many of our museums are located in historic buildings. These are places that would certainly deserve to be on display themselves, if their size did not make that impossible. To be frank, we could even claim that Granada (Things to do in Granada) itself is a museum. This may well be the reason why International Museum Day is such an important date in the city. Would you like to know what you can see here?
What to see on International Museum Day in Granada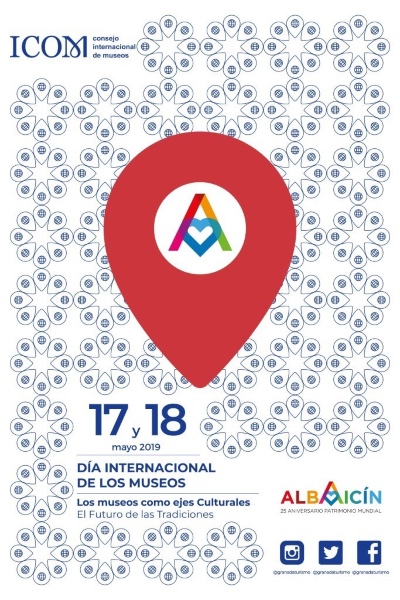 The important thing about this day is free entry to museums and other spaces with the same philosophy. What's new about this year is that we can do it over two days: the 17 and 18 May.This year's message is "Museums as cultural centres", but bearing in mind that this year we are celebrating the 20th anniversary of the designation of Albaicín as a World Heritage Site, this famous district will have special prominence. So much so, that the Granada Social School has enabled the residents of Albaicin (Tours Albaicín and Sacromonte) to put forward their own ideas. The residents chose the local monument or place that they think should be in a museum.
Besides, the Science faculty and Herbario have organized another visit which goes to the Roman Pottery of La Cartuja, the Hospital Real and a route for the monuments associated with the prestigious Granada University.
The Alhambra on Museum Day in Granada
Alhambra Museum will remain open all day. There will also be conferences and workshops in which visitors can take part in the celebration of Granada's artistic heritage. The workshops for children are especially interesting. They will focus on the Muslim world. The little ones will discover and make drawings based on the things they learn. They'll have a great time! It is important that they do, because it is vital for their future to develop an interest in culture when they are still young.
Women will also have a space in Granada's Museum Day. On Saturday and Sunday, Lourdes Ruíz López and Inmaculada Ávila Rojas will talk about Yusuf III, social classes and women's role in Al-Andalus. We at Cicerone are particularly pleased with this idea, because women had a special place in Al-Andalus and it is a subject worth re-examining. Finally, the Palace of Carlos V will also be the setting for piano and guitar recitals as part of the cycle 'the music of words'.
The Cicerone team will also be celebrating Museum Day. Art is a form of communication, between present and present and between the past and the present. We can get a better understanding of each other through beautiful objects than through words. We would like to invite you to enjoy this day with your family and loved ones. What about rounding off the day with a private guided tour of Granada?