TripAdvisor, the biggest travel website in the world, has awarded us its Certificate of Excellence, for the second year in a row. This prize is given to the establishments with the best performance and highest user ratings: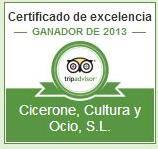 Cicerone, Cultura y Ocio, has once again, received the (2013) prize for the quality of its guided tours, thanks to those who put their put their trust in us when they visit Granada, as well as the comments about their experience which help other users. This Certificate of Excellence, which this year celebrates its 10th anniversary, together with other recognitions that Cicerone has received, provides a stimulus to continue its cultural work and promotion of Granada's culture and history.
At Cicerone, we are very grateful to our visitors for placing their trust in us, and we feel very honoured to have received this distinction, especially as we are aware of the importance of this social network and the prize which praises outstanding service. The Certificate of Excellence is only given to businesses that continually receive exceptional opinions and reviews from travellers on TripAdvisor, and any establishment in the world that meets the necessary criteria can be selected. Of all of the businesses which have a TripAdvisor account, only 10% receive this prestigious award.
To achieve the Certificate of Excellence, businesses must maintain a minimum rating of four points (out of a possible five), obtained through traveller's opinions on TripAdvisor. They must also have an account that has been active for a minimum of 12 months. Alongside other additional criteria, the volume of opinions received over the last 12 months is also taken into account.
At Cicerone we exert ourselves, offering our customers an unforgettable experience, and this prize attests to that. We are very grateful to all those who have placed their trusted in us and have given us the chance to receive this award.
Thank you!!