Our organisation of the guided visits around Granada and the Alhambra for the Miccai Conference 2018 was a success.
What's Miccai 2018? It's a conference on Medical Image Computing and Computer Assisted Intervention. This professional conference took place right in the heart of Granada at the Palacio de Congresos (Granada Conference Centre).
We coordinated the social events during the conference, alongside Molly Piccavey.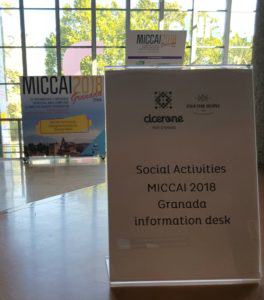 Molly is a successful travel blogger. In 2016, she won the Fitur best tourism blog and offers gourmet tours such as "A taste of Granada". Since 2017, she has been the official Granada ambassador in the United Kingdom for OnGranada Tech City.
We've occupied a stand on the first floor of the Palacio de Exposiciones y Congresos de Granada (Granada Conference Centre) since 16th September, informing more than 1500 participants about the different tour/visit options available, including gastronomic routes and wine tasting sessions organised by Molly and Foodsherpas Granada, other guided tours around the city and the Alhambra and experience such as the Arab baths, Flamenco classes and other sports activities.
On 18th September, we organised an afternoon guided tour around the Albayzín and Sacromonte for more than 200 people, who were very impressed when we took them to some of the must-see and well-known spots including the Mirador de San Nicolás or the Paseo de los Tristes. The next day, 19th September, we organised a guided tour of the Nasrid Palaces, exclusively for 450 congress people.
We are very happy with how these activities turned out. Our guides took part with great professionalism and among us all, we made sure that medical professionals from many different countries enjoyed our monuments and culture for a few days.
These are some of the photos we took during the tours we hosted for the congresspeople, who visited the Albayzín, Sacromonte and the Alhambra, accompanied by our guides.