(Updated July 2022)
The Alhambra is one of the most beautiful places in Spain and it's the soul of Granada. When you visit the red Castle, it gets perfectly clear why it is a UNESCO World Heritage site, a top tourist attraction in the country, one of the most visited monuments in Spain and one of the most famous tourist attractions on Earth. There are only a few places in the world that can be compared to the Alhambra in Spain.
The Alhambra in Granada is a place you must see at least once in your life, as it is considered the most charming Arab palace in Europe. It is the icon of the city and an exotic adventure for all who visit it.
The importance of the Alhambra is linked to its location. The Alhambra overlooks the city of Granada, which is located on a rocky hill called La Sabika, on the left bank of the Darro River.
Alhambra sits atop a hill in Granada, Spain. The palaces, fortress and gardens date back to the 1300s when the region was a dominion of the Moors. Alhambra is more than a palace and tourist attraction in Granada. It is a source of Spanish pride and of immense historical significance. Alhambra is also one of the best-preserved sites of Moorish (North African Islamic) architecture in Spain.
9 Essential tips for visiting the Alhambra Palace in Granada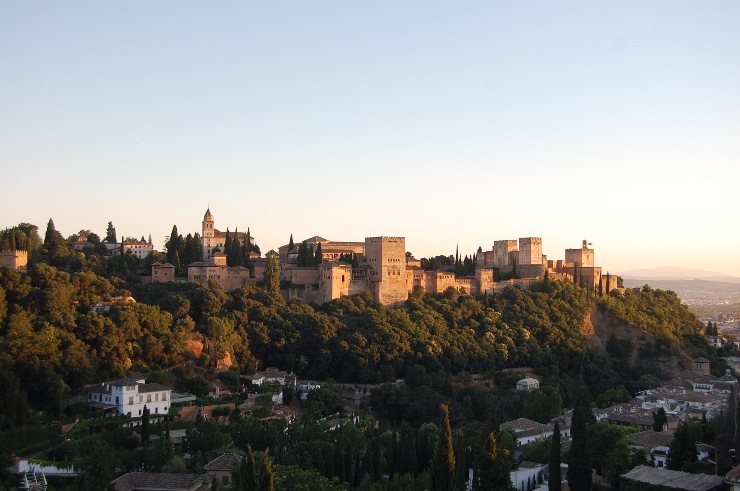 We recommend you to prepare your trip long before your arrival in Granada. Here you have 9 tips for visiting the Alhambra.
1. Book your tickets for the Alhambra in advance
As the Nasrid Palaces have a limited capacity, it is necessary to get your tickets in advance if you don't want to miss the visit. Furthermore, you will also be able to choose the most suitable timing for you.
The Alhambra Palace opens every day from 08.30h to 18.00h (during autumn and winter season) and from 08.30 to 20.00h (during spring and summer season).
If you want to know more about how to buy your tickets to the Nasrid Palaces you can read this post.
2. Book a guided tour to see the palace
The Alhambra Palace is very big: Generalife gardens, Carlos V Palace, Nasrid Palaces, Alcazaba, etc..all of it is full of stories and legends. Due to its strategic location, it has played an important role in the history of Granada.
That is why visiting this palatial complex with a guided tour is an advantage. The tour guide will tell you every historic detail and reveal all the curiosities of the Alhambra.
You can decide which kind of tour is more suitable for you. We have different options for you to choose among: private tours, premium small groups, a full day tour, Alhambra night tour, and others.
However, please help us to secure your entry by making your reservation well in advance, this way we can reserve your spot as soon as possible. Tickets sell out quickly.
3. If I don't take the guided tour, can I visit the Alhambra on my own?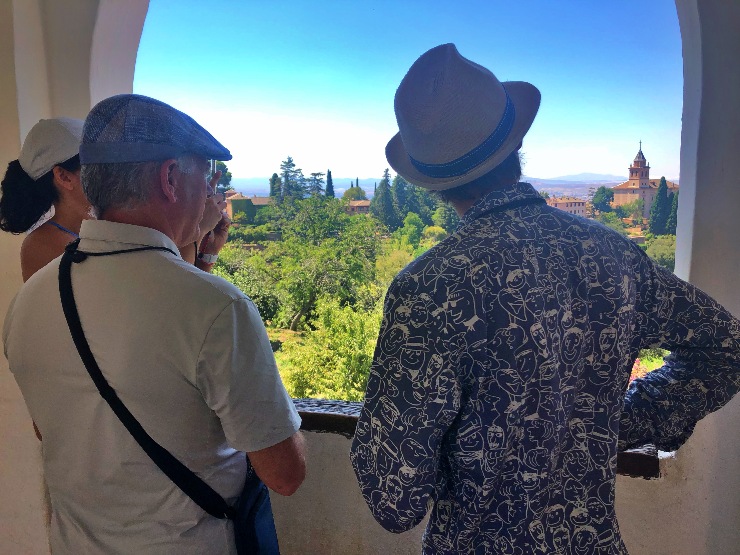 You can visit the Alhambra without a guide, but you will likely miss more than 50% of the information. You will enjoy the views, but you won't understand the meaning of the scenery you have in front of you.
It can be a nice option if it is not your first time and you have already done a guided tour. Otherwise, you won't fully seize your experience, even if you have read enough about the Alhambra.
Maybe you always look for privacy when you travel, if so, don't worry because you can hire your own guide. This way, there will be no one but you and your travel partners.
4. How much time should I spend visiting the Alhambra?
It depends on how much time you would like to spend visiting the complex. As we said before, the red fortress is quite big, and it has a lot of secrets and details to discover.
If you visit it on your own, walking fast, and without stopping too much, you can spend about one hour and a half or two hours, but you won't have seen anything.
Therefore, we recommend you take it easy to fully enjoy the experience. In that case, you will need about 3 to 3,5 hours to also take pictures of the place.
5. Best time to visit Alhambra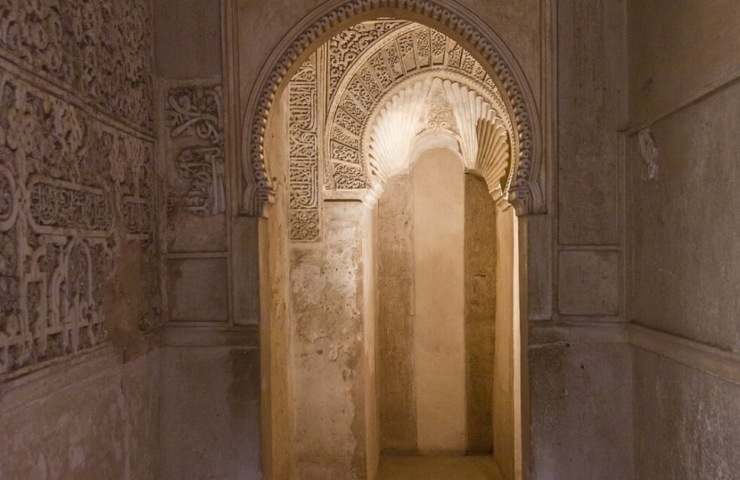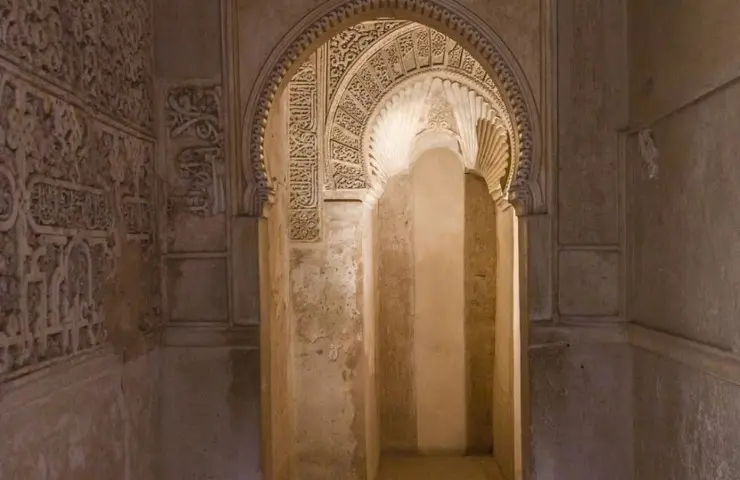 The best time to visit the Alhambra is always. It surely depends on your preferences.
In September and October, you'll find that the city has nice weather, but more visitors. The same goes for April, May, and early June, though these months can be a little cooler.
Each season has its advantages. During the autumn-winter season, the city has a unique atmosphere, and you will be able to visit Sierra Nevada and ski. In summer, the city has fewer people so you can visit the whole city enjoying more privacy.
If you are interested in knowing more, read our post "what is the best time to visit the Alhambra".
6. The easiest way to get to the Alhambra
Alhambra is located at the top of Sabika's hill. The walk from Plaza Nueva up to The Alhambra is stunningly beautiful and historically more interesting, but bear in mind it is steep in parts.
We always recommend the public transport option. You can take the bus (C30) in Plaza Isabel la Católica and you'll have to get off the Alhambra-Generalife stop. There are other bus lines that you can check (C32 and C35) if you have to go from a different place.
You can also go by car if you wish but our recommendation is to avoid using a car. Parking spaces are limited and charged by the hour, and the route by car is much less picturesque
7. Night tour of the alhambra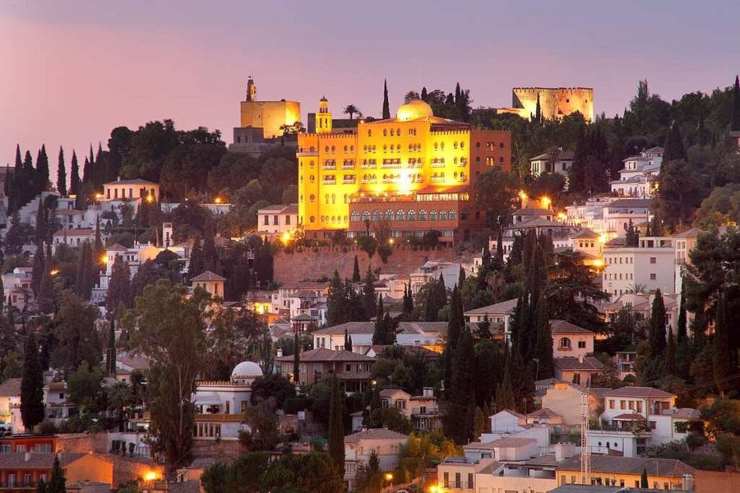 Did you know that you can also visit Alhambra at night? This palace is a unique place that you will never forget, especially if you visit it at this time of the day. The Alhambra night visit will offer you total privacy for a more romantic experience. If you want to enjoy a perfect evening, this tour was made for you. It can be ideal for a surprise to your partner or just to enjoy the peacefulness of this magical location.
8. Explore the rest of the city for context
Granada is more than a city, it is a historical centre, a must know for every single person interested in Spain or Europe. It is impossible to calculate its cultural value and not only because of the Alhambra. Granada has an impressive background which is present everywhere, especially in the city centre or in the Albaicin and Sacromonte neighbourhoods.
When you are wandering, you can see how the Moorish culture influenced the town. You can notice its evidence from the historical sites' architecture and pattern. But what is most astonishing is that you can also see it in "ordinary" buildings.
That is why we advise you to take a guided tour in Granada.
Granada means "pomegranate" in Spanish. If you pay attention, you will note how the pomegranate is everywhere in the city. No wonder the town is called Granada.
9. Choose a place to stay near the Alhambra
Even though Granada is a fairly large city for this part of Spain, deciding where to stay in Granada shouldn't be too difficult. As a tourist there, your main focus will likely be on the Alhambra and the Old Town, so the city center is where you want to be looking for accommodation.
The good news is that generally the best places to stay in Granada and many of the city's options are found there so you shouldn't run into too many difficulties finding the right area where to stay.
If you're looking to wrap yourself in comfort and grandeur, stay at the Hotel Alhambra Palace up on the hill by the city's most famous attraction. Located close to the Alhambra with stylish rooms and excellent service, this hotel is a treat to stay at.
Here you can see the best luxury hotels in Granada.
For a nice mix of home comforts, style, and affordability, "Petit Palais 1829" is well worth considering. This large apartment in the city center has everything from a kitchen to a washing machine, truly making you feel at home.
Another possibility for accommodation is looking at places to stay on booking.com and choose the accommodation that suits you best.
So, with all of that said, the Alhambra is definitely worth visiting.