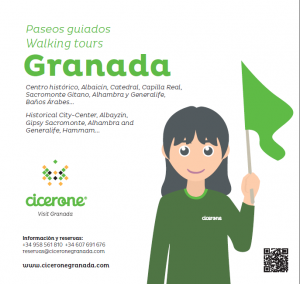 New image, new blog and increased and better content. Cicerone, having decided to offer more to people visiting Granada, is going through a renewal process to accompany the new year, to improve the quality and service it provides.
Firstly, we're making this blog available as a meeting point for all Granada enthusiasts, where each week we'll talk about something that's particularly interesting from history, heritage, culture or the present day in our region.  We promise to do so with excitement and energy, providing interesting and thought provoking content that all of you who love Granada as much as we do you can learn about and enjoy.
In the vein of offering increased and better information over time to our clients and visitors, our kiosk located in popular Plaza Bib-Rambla is also being improved, with a new and friendly look, aimed at promoting culture, art and history in Granada. Come by to visit us and you'll be attended to with information on the best cultural offerings in the city.
We'd be thrilled to show you all of the changes we've got in store for you, there are still many of them. We'll be showing them to you little by little and we hope you'll like them. We're thrilled and excited about it!!