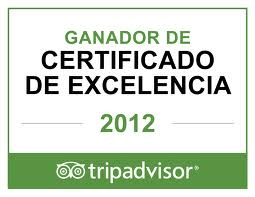 TripAdvisor has awarded the 2012 Certificate of Excellence to CICERONE, Cultura y Ocio SL for the high quality of our guided tours in the city of Granada: guided visits that have been available all year round since 2003. National and international tourists, who visit Granada and participate in CICERONE's guided activities, have acknowledged this high standard.
The criteria upon which TripAdvisor bases this recognition are the user ratings that we have continuously received via our website over the last year. CICERONE has received the ratings required to achieve a leading position among the establishments with the best performance within the TripAdvisor community.
At CICERONE we are both happy and proud to have received this Certificate of Excellence, as it recognises all those years of care and hard work.  We would like to thank the guides and customer service members at our "Punto de Encuentro" kiosk in Plaza Bib-Rambla for all the effort and excellent hard work that they have put in over the years. This 2012 TripAdvisor Certificate of Excellence is the reward for excellent work by all.
Thank you so much everyone!!!